Plenary Speaker: Dr. Caddie Alford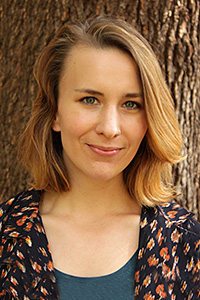 We are pleased to announce Dr. Caddie Alford, Assistant Professor of English at Virginia Commonwealth University, as the 2019 Corridors plenary speaker.
About Dr. Caddie Alford
Caddie Alford is Assistant Professor of Rhetoric and Writing in the English Department at Virginia Commonwealth University. Her work has appeared in enculturation and Rhetoric Review, with an article forthcoming in Media Ethics Magazine. She recently published a book review of Kate Manne's Down Girl: The Logic of Misogyny for Rhetoric Society Quarterly and is currently serving as the book review editor at enculturation. Her current book project, Everyday Chatter: The Matter of Opinion in the Age of Social Media, recuperates the ancient Greek concept of doxa for contemporary rhetorical theory, especially in the context of social media.
Plenary Presentation
Rhetorical Infrastructure, or the Complicity of Systems
From James Bridle's viral exposé "Something is Wrong on the Internet," we know that YouTube videos are being used "to systematically frighten, traumatize, and abuse children, automatically and at scale" (Bridle). At the messy intersection of algorithms, capitalism, platforms, stock animation, and stews of tropes are kids' videos that merely seem educational. Amidst scores of bright colors, counting, puzzles, these videos veer into the realm of the disturbing: female Disney characters lie inexplicably crumpled on the ground or high-pitched screams puncture nursery rhymes. The emergence of these videos epitomizes what Bridle calls "infrastructural violence," or the violence of an unchecked platform in the age of an unchecked Silicon Valley.
Infrastructure is not only supportive media, however—the concept of infrastructure increasingly interests rhetoric scholars because infrastructure facilitates communal norms and public performativity thereby shaping interactions with materiality (Nathan R. Johnson; Meredith A. Johnson; Andrew Pilsch; John Durham Peters). I suggest that a uniquely rhetorical infrastructure is comprised of suasive foundations: opinions, beliefs, and seemingness, or what ancient Greeks called doxa. Rhetorical infrastructure gets built every time we navigate online systems: with each view and each click, we develop and travel doxa. Returning to the kids' videos Bridle describes, I argue that as infrastructure, opinions become a kind of technicity underwriting our ethical actions and attunements. Opinions, that is, direct us to act one way or the other. This begs these questions: How do we as rhetoric scholars account for the kind of toxic rhetorical infrastructure that YouTube fosters? And how might we as educators help our students understand the ways opinions form online and in collaboration with a diverse range of actors and agents?